1dd4hh38mm41ss

Time Left For UPS Ground Cutoff

1dd4hh38mm41ss

Time Left For FedEx 2nd Day Cutoff
Shipping Information
Shipping Rates
UPS
Flat Rate Cost
Cut Off Time
Free Shipping
on Orders
Free Shipping
CA Region
Delivery Time
Business
address
Residential
address
Mon. - Fri.
Ground
$10.00
$17.00
4:30pm PST
$400+
$200+
3-5 Business Days
Next Day Air Saver
$30.00
$40.00
4:30pm PST
$1000+
1 Business Day - Delivery by 8:00pm

(Friday orders will deiver on the follwing Monday)

Next Day Air
*Available for Monday -
Thursday orders only
$35.00
$45.00

3:00pm

PST
$1500+
1 Business Day - Delivery by 10:30am
United States
Ground
$10.00
same rate cost as business address
4:30pm PST
$400+
$200+
3-5 Business Days
2nd Day Air
$20.00
4:30pm PST
$750+
2 Business Days

(Will not deliver on saturday)

Standard Overnight
$30.00
4:30pm PST
$1000+
1 Business Day - Delivery by 8:00pm

(Friday orders will deiver on the follwing Monday)

Priority Overnight
*Available for Monday -
Thursday orders only
$35.00

3:00pm

PST
$1500+
1 Business Day - Delivery as early as 8:00 am
Saturday Delivery


*Available for Friday Orders Only

$40.00
4:30pm PST
$1800+
Saturday - Delivery by 12:00pm
International
Canada
$45.00
4:30pm PST
NA
3-5 Business Days
Mexico
$50.00
4:30pm PST
NA
3-5 Business Days
Puerto Rico
$50.00
4:30pm PST
NA
3-5 Business Days
$5.5

3:00pm

PST
NA
3-5 Business Days
PICK UP


( Monday-Friday )

CUT OFF TIME
PICK UP ADDRESS
Order time
Pick up time
10:30am PST
11:00am PST
355 S.Lemon Ave,Suite E.
Walnut CA 91789
3:00pm PST
3:30pm PST
Mengtor is not responsible for the delivery times of Products. Once Products have been dispatched, it is the Customers responsibility to liaise with the courier nominated by Mengtor (as notified to the Customer) in relation to date and time of delivery. Mengtor shall not be liable for any inaccuracy of information provided to Customers relating to the date and time of delivery.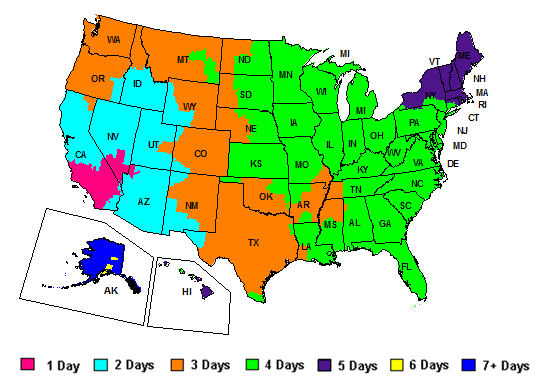 ---
Disclaimer
●Shipping rates may change without prior notice.
●Orders placed on Saturday or Sunday will ship out the following business day.
●Severe weather, local disruptions, holidays, and other unexpected events may delay your order.
●Shipment credit for delayed orders are granted under the terms and conditions of the carrier
○Process of credit can take up to 7-10 business days after time of delivery.
○Shipment credit for delayed orders is not applicable for orders delayed due to the following:
●Delay beyond our control
●Weather issues
●Local disruptions (ex: accident causing traffic, local parade, etc.)
●Hawaii ,Alaska, American Samoa customers: There will no longer be overnight and Saturday delivery option. Please select the two day delivery for shipping.